Technologies: .NET (C #), GUI, Network Programming (WCF, UDP Unicast / Multicast), XML
SACO ( Service-Based Assembly Control) is a distributed software package that facilitates the creation and use of services based on Windows Communication Foundation (WCF) technology. Services created for SACO focus on providing interfaces for using PC-controlled devices or low-level machines connected to different computers on a local area network (LAN). Simply put, devices connected to a PC can be shared with other PCs.
SACO was developed with the objective of forming the basis for a distributed production control system in the future.
SACO consists of three components:
The SACO platform manages services that are integrated as plugins.
The SACO Client Library enables easy localization and instantiation of a service.
The SACO User Auth Library performs an authorization check to protect against unauthorized control.
Techniques and Features:
Advantages over WCF

Very easy configurability of the services with XML: Usual settings required in WCF (eg address, behavior and binding) are completely eliminated.
Automatic service resolution : The location of a service can be resolved by a unique name without knowing its IP address (client-server or multicast mode).
User authentication security mechanisms: No Windows credentials are required and no validator needs to be implemented. It is possible to carry out an authorization on the methodological level of the service (flexibility).
Controlled hosting with a clear user interface.

Dynamically enable and disable the services

Integration and exchange of (new) services (plugins) during program runtime (extensibility).

Automatic version control of client and service.

Automatic concurrent client access synchronization

Open architecture and modular design.

In principle, no limitation in the number of simultaneously running and networked platforms (scalability).

Dummy services for the "offline" use of services: Even if devices are not connected, the services worked and can thus be used for simulations.

Detailed logging (GUI, File).
SACO was developed under my lead at the Fraunhofer IPT and is used there in the Production Machines (Automation) department.
Screenshot of the SACO platform: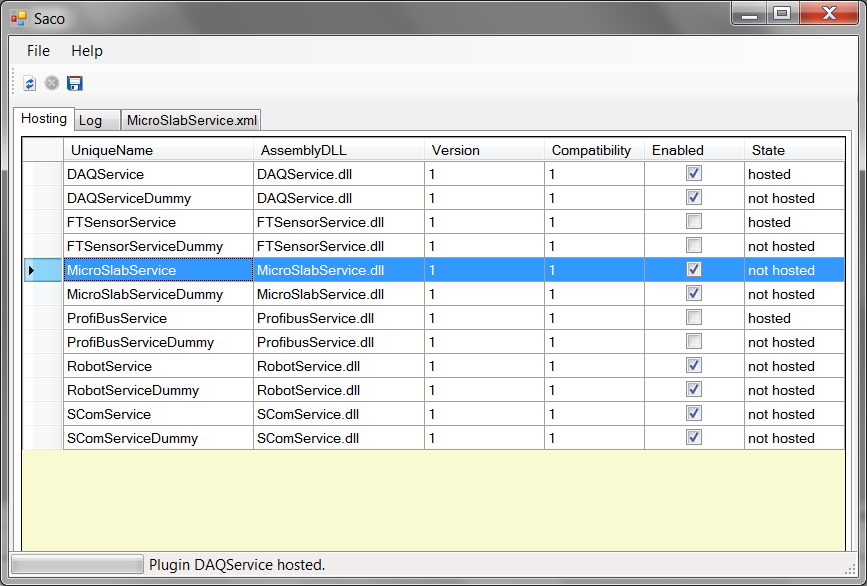 Screenshot of a page of the API Documentation of a robot control service (created with Doxygen ):